Body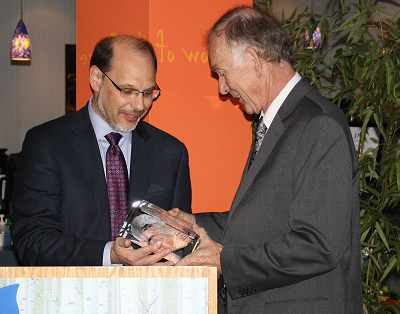 A photo from the Ed McIsaac Award ceremony (October 24, 2013) featuring from left to right, Mr. Howard Sapers, Correctional Investigator and Mr. Graham Stewart (award recipient). 
For Immediate Release
OTTAWA, October 24, 2013 – Today, Mr. Howard Sapers, Correctional Investigator of Canada, is pleased to announce that Mr. Graham Stewart, former Executive Director of the John Howard Society of Canada, has been presented with the 2013 Ed McIsaac Human Rights in Corrections Award.
In presenting the award, Mr. Sapers acknowledged Mr. Stewart's nearly four decades of service devoted to social justice, sentencing reform and humane corrections. "Graham has worked tirelessly to improve policy, practice and outcomes for sentenced persons in Canada," said Mr. Sapers. "His example and contributions continue to serve as a reminder of the importance of protecting the human rights of society's most vulnerable and disadvantaged persons."
In a long and distinguished career, Mr. Stewart has represented the John Howard Society at hearings of Parliamentary Committees, served on numerous national Commissions, Advisory Committees and Task Forces and was a key member of the Correctional Law Review, which led to the creation of the Corrections and Conditional Release Act in 1992. For 25 years, he was the primary spokesperson and administrator for the John Howard Society, a national voluntary organization consisting of 65 provincial and community offices and more than 500 staff and 15,000 volunteers, donors and supporters across the country. Even in retirement, Mr. Stewart continues to be a leading voice and advocate for correctional reform and sentencing alternatives, inclusive of a 2009 human rights analysis and critique (co-authored with Professor Michael Jackson) of the Correctional Service of Canada Review Panel Report entitled "A Roadmap to Strengthening Public Safety."
The award will be presented at the Hotel Indigo in Ottawa.
The Ed McIsaac Human Rights in Corrections Award was established in honour of Mr. Ed McIsaac, long-time Executive Director of the Office of the Correctional Investigator and strong proponent of human rights in federal corrections.
Upon his retirement, Mr. McIsaac was presented with a sculpture by Ms. Audrey Greyeyes, a Cree artist from Muskeg Lake Cree Nation, entitled Medicine Man. The sculpture symbolizes wisdom, clarity of thought, and leadership. Mr. Stewart will receive a reproduction of the Medicine Man Sculpture. This is the fifth time that the Ed McIsaac Award has been presented since it was first established in December 2008.
Details on nomination procedures for the Ed McIsaac Human Rights in Corrections Award are available on the Office's website at www.oci-bec.gc.ca.
For more information contact:
Ivan Zinger, J.D. Ph.D.
Executive Director and General Counsel
Office of the Correctional Investigator
Tel: (613) 990-2690
Ivan.Zinger@oci-bec.gc.ca
---
Date modified
2023-03-15 
Banner Image